Sponsored Posts
The Daily Pennsylvanian offers two ways to reach the Penn market via social media. Instantly reach The Daily Pennsylvanian's 20,000+ Twitter followers and 17,000+ Facebook followers with messages about your upcoming events and specials. In a recent market research study, 81% of readers said they follow The DP on Facebook. Reach a wider audience on Facebook with boosted posts. Boosted posts allow us to target additional Facebook users who do not follow The Daily Pennsylvanian page.
SCHEDULE: Four time slots available per day: Morning, Afternoon, Evening, and Late Night. The minimum order is four posts, with a maximum of two posts per customer per day.
POST INFORMATION: No general branding messages allowed; posts are only for specials or events. All posts must have "sponsored" in each message.
Sponsored Post
4 post minimum; 2 posts per customer per day max
$50/post
Add Ons:
Boosted Post
 $25/post
Starter Boost
 $50/post
Standard Boost
 $75/post
Super Boost
 $100/post
Sponsored posts must be submitted by 3 p.m. two business days in advance of their scheduled run.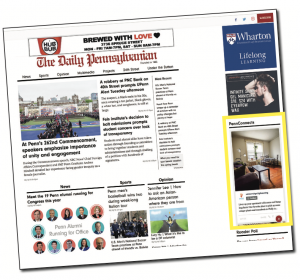 Penn Connects
Link up to two of your social media accounts to theDP.com. We have a dedicated spot on our homepage and article pages that will show a live feed of your social media posts. The Penn Connects feed has received over 2.9 million views. Posts have been shared over 30,000 times, and clients gained on average 40 new followers each. We will provide monthly reporting showing total posts, views, shares, follows, and likes.
PennConnects posts must be submitted by 3 p.m. one business day in advance of the start of each month.