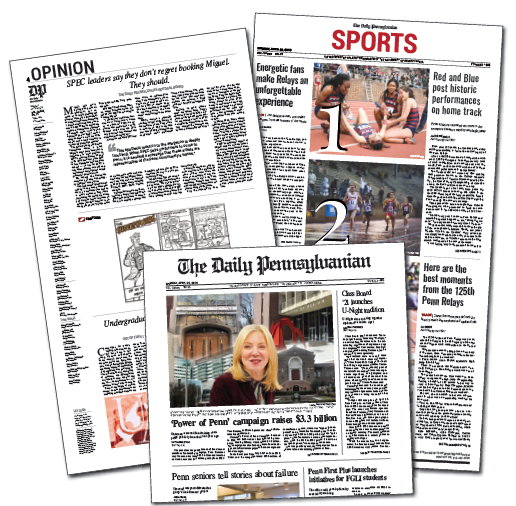 The Daily Pennsylvanian
The Daily Pennsylvanian, better known as the DP, is the award-winning student newspaper at the University of Pennsylvania. The DP is frequently recognized as one of the top college newspapers in the country. Publishing twice a week with a circulation of 6,000 copies on Mondays and Thursdays, the DP delivers to the Penn community relevant coverage of breaking news, sports, and commentary — plus the New York Times Crossword Puzzle, Sudoku, and hundreds of informative ads for products and services.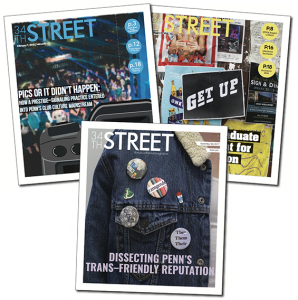 34th Street Magazine
34th Street is the entirely student-run, award-winning arts, entertainment, and culture magazine at Penn. Publishing every Wednesday, Street serves a thought-provoking mixture of gossip, food reviews, movie recommendations, student life stories, humor and in-depth features.
Print Publication Calendar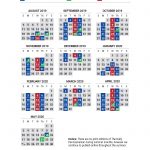 Click here to view the current publication calendar, special issues throughout the year, and key dates on the Penn academic calendar.
---
Print Rates
The Open Rate is available to Philadelphia-area and national advertisers. University of Pennsylvania departments and organizations qualify for a Penn discount.
Rate
Type
Display Ad Rate
Per Column Inch
Open Rate
$12.50
Penn Discount Rate
$11.25
Color
Any display ad using color — whether single or full color — incurs a flat charge for color printing. Press configurations may occasionally limit the locations of color ads in an issue.
Color Open Rate: $160
Color Contract Rates*
| | |
| --- | --- |
| Display Ad (column inches) | Color Rate |
| 1-12 | $50 |
| 13-29 | $75 |
| 30-60 | $100 |
| 61-120 | $125 |
Local contract customers receive thee discounted color rates based on ad size, not contract level. No additional discount percentage applies.
---
Guaranteed Position
Guaranteed Position
10%
of ad cost ($40 minimum)
Guaranteed position only applies to specific pages or sections, not to the position of the ad on a page. Position guarantees are sold on a first-come basis, based on availability. Not all position requests are possible due to layout and press configurations.
Local Contract Rates
Annual contracts provide discounted rates in exchanger for an advance commitment to a minimum dollar amount of advertising within any 12-month period. Only local advertisers (Philadelphia-area businesses and University of Pennsylvania departments and organizations) are eligible to sign an annual contract. Most new and renewing annual contracts also earn print frequency rewards.
Contract discount percentage applies to rates for all advertising products where indicated.
Contract Level
Discount
Display Ad Rate
Per Column Inch
$2,000
12%
$11.00
$3,000
14%
$10.75
$4,000
16%
$10.50
$5,000
18%
$10.25
$6,000
20%
$10.00
$8,000
22%
$9.75
$10,000
24%
$9.50
$15,000
26%
$9.25
$20,000
28%
$9.00
$30,000
30%
$8.75
Print Ad Deadlines
It is not necessary to "reserve space" prior to submitting an ad; both the ad order and ad copy are due by deadline. Should ad copy not be recieved by deadline, the ad will be subject to cancellation from the edition. Advertising cancelled after deadline is subject to full charge.
Advertisers requiring proofs, please add one business day to deadlines.
Occasionally, display ads can be accepted after deadline. If a late ad order is accepted, there will be a late charge of 10% of the ad's total cost.
The Daily Pennsylvanian
3 p.m.
2 business days in advance
34th Street
3 p.m.
4 business days in advance
Front Page Ads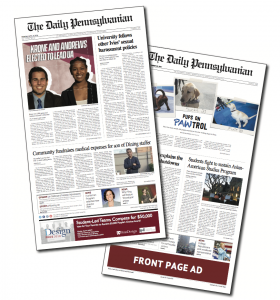 The front page is the most prominent position for an ad. Only one front page ad is available in each issue, on a first-come-first-serve basis. There is only one size available: the ad runs across the entire bottom of the front page, 6 columns (10.875") wide by 2" tall. Color is included in the cost of the ad. Ad designs are subject to review and acceptance by The Daily Pennsylvanian.
Front Page Ads
Per week
Cost
Per ad
1
$300
2+
$200